BMS202 (PD-1/PD-L1 inhibitor 2)
目录号:S7912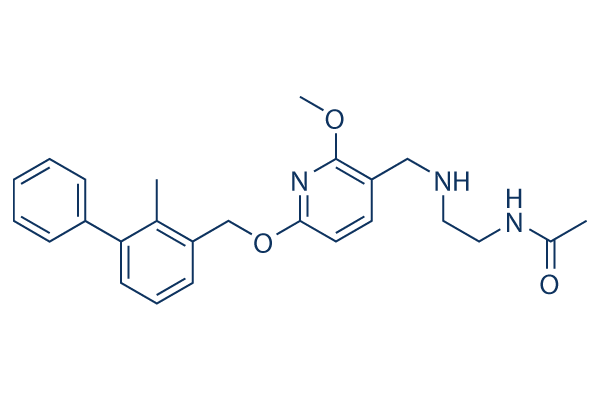 Molecular Weight(MW): 419.52
BMS202 (PD-1/PD-L1 inhibitor 2)是一种抑制PD-1/PD-L1相互作用的小分子化合物,IC50为18 nM。
生物活性
产品描述
BMS202 (PD-1/PD-L1 inhibitor 2)是一种抑制PD-1/PD-L1相互作用的小分子化合物,IC50为18 nM。
靶点

PD-1/PD-L1 interaction [1]
(Cell-free assay)
0.018 μM
推荐的实验操作(此推荐来自于公开的文献所以Selleck并不保证其有效性)
溶解度 (25°C)
体外
DMSO
83 mg/mL (197.84 mM)
Ethanol
83 mg/mL (197.84 mM)
Water
Insoluble
* 溶解度检测是由Selleck技术部门检测的,可能会和文献中提供的溶解度有所差异,这是由于生产工艺和批次不同产生的正常现象。请按照顺序依次加入各个纯溶剂。
化学数据
| | |
| --- | --- |
| 分子量 | 419.52 |
| 化学式 | C25H29N3O3 |
| CAS号 | 1675203-84-5 |
| 稳定性 | powder |
| 别名 | N/A |
计算器
摩尔浓度计算器
摩尔浓度计算器
本计算器可帮助您计算出特定溶液中溶质的质量、溶液浓度和体积之间的关系,公式为:
质量 (g) = 浓度 (mol/L) x 体积 (L) x 分子量 (g/mol)
摩尔浓度计算公式
*在配置溶液时,请务必参考Selleck产品标签上、MSDS / COA(可在Selleck的产品页面获得)批次特异的分子量使用本工具。
稀释计算器
稀释计算器
用本工具协助配置特定浓度的溶液,使用的计算公式为:
开始浓度 x 开始体积 = 最终浓度 x 最终体积
稀释公式
稀释公式一般简略地表示为: C1V1 = C2V2 ( 输入 输出 )
在配置溶液时,请务必参考Selleck产品标签上、MSDS / COA(可在Selleck的产品页面获得)批次特异的分子量使用本工具。.
分子量计算器
分子量计算器
通过输入化合物的化学式来计算其分子量:
注:化学分子式大小写敏感。C10H16N2O2 c10h16n2o2
摩尔浓度计算器
技术支持
在订购、运输、储存和使用我们的产品的任何阶段,您遇到的任何问题,均可以通过拨打我们的热线电话400-668-6834,或者技术支持邮箱tech@selleck.cn,直接联系到我们。我们会在24小时内尽快联系您。
如果有其他问题,请给我们留言。
常见问题及建议解决方法
问题 1:

I would like to know the difference of S8158, S7912, S7911, and the reason of why the IC50 is different.

回答:

These three compounds are three different PD-l/PD-L1 inhibitors. They have different structures, characteristics, and probably function through different mechanisms. And this is why the IC50s are different. Inhibitor 1 and 2 are small-molecule inhibitors while inhibitor 3 is Macrocyclic inhibitor.