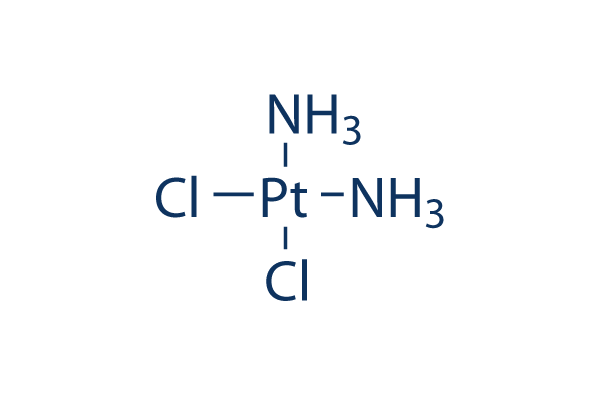 Molecular Weight(MW): 300.05
Cisplatin 是一种无机铂络合物,在肿瘤细胞中能够通过形成DNA加合物抑制 DNA synthesis。
客户购买Selleck的此次产品后发表的文献25篇:
客户使用该产品的5个实验数据:
Cell viabilities with increasing concentrations of cisplatin (CP) and doxorubicin (DOXO) under normoxic and hypoxic condition for 48 hours were determined by MTT assay. IC50 values are presented as the means ?SDs (n=4) and * denotes p<0.05.

Cancer Res 2014 74(1), 298-308. Cisplatin purchased from Selleck.

RH4 cells were stably transfected with STAT3-C vector. The expression of Flag-tagged STAT3 was examined in STAT3-C stably transfected RH4 and RH5 cells by western blot. (B) The inhibition of cell viability by cisplatin and doxorubicin in RH4 (B) cells was decreased in the presence of STAT3-C protein shown by MTT assay (*P<.05, ** P <.01, *** P <.001).

Curr Cancer Drug Targets, 2016, 16(7):631-8. Cisplatin purchased from Selleck.

Influence of miR-193a-5p and AP-2α on cisplatin sensitivity. UM-UC-3 cells were infected with lentiviral miR-193a-5p inhibitor or AP-2α gene. At 72h after transduction, cells were seeded on 96-well plates and treated with different concentration of cisplatin for 36 h. The cell viability was determined by MTT assay.

J Cancer, 2016, 7(12):1740-1746. Cisplatin purchased from Selleck.

Growth inhibitory effects of Cisplatin human pancreatic cancer cells. Capan-2 cells were plated in triplicates into 48-well plates at a density of 10,000 cells/ml. After 24 hours, complete culture medium was changed into fresh low-serum-containing medium (1% FBS) containing DMSO (control) or indicated doses of Cisplatin (Selleckchem). Cell viability 72 hours after treatment was determined by AlamarBlue assay (Invitrogen) according to manufacturer's instructions. Results are expressed as percentages of control, which was arbitrarily assigned 100% viability, and represented as the mean ± standard deviation (SD) of the tripicate wells.

2013 Dr. Edita Aksamitiene from Thomas Jefferson University. Cisplatin purchased from Selleck.
DNA/RNA Synthesis抑制剂选择性比较
生物活性
产品描述
Cisplatin 是一种无机铂络合物,在肿瘤细胞中能够通过形成DNA加合物抑制 DNA synthesis。
特性
Cisplatin是最广泛使用的且最有力的化疗药物之一。
靶点

DNA synthesis [1]
(Tumor cells)

体外研究

Cisplatin 通过与DNA相互作用形成DNA交联剂诱导细胞毒性,激活多条信号转导通路, 包括Erk, p53, p73, 和MAPK,其中对激活凋亡影响最大。[1] Cisplatin (30 mM) 处理 HeLa 细胞6小时,显著激活Erk,持续到随后的14个小时期间。Cisplatin 还具有有效的抗肿瘤活性,诱导肿瘤细胞死亡。Cisplatin可引起肾小管上皮细胞(RPTC)发生细胞凋亡,引起细胞收缩,使caspase 3活性提高50倍,磷脂酰丝氨酸外翻提高4倍,染色质凝集和DNA倍性分别提高5 和15倍。[4] Cisplatin (800 μM)处理 RPTC 4个小时,产生细胞坏死的典型特征。[5]

体内研究
Cisplatin已被证实可有效作用于多种动物肿瘤模型,抑制肿瘤生长,包括头颈部肿瘤移植瘤,宫颈鳞状细胞癌移植瘤,睾丸癌移植瘤,卵巢癌移植瘤,乳腺癌移植瘤,结肠癌移植瘤,肝母细胞瘤移植瘤,等等。Cisplatin (5 mg/kg) 在实验第一天和第七天静脉注射处理浆性移植瘤Ov.Ri(C) 和 OVCAR-3,肿瘤生长抑制率 (TGI)分别为 77.5% 和85.1%。[6]
推荐的实验操作(此推荐来自于公开的文献所以Selleck并不保证其有效性)
细胞实验:

+ 展开

Cell lines: 白血病 L1210/0 细胞
Concentrations: 7 μg/mL
Incubation Time: 2 小时
Method:

L1210/0细胞培养在McCoy's 5A培养基中,培养基中补充有 15% calfserum, 和Fungizone,在 37°C下含5% CO2的培养箱中做悬浮培养,细胞呈指数生长趋势。Cisplatin (7 μg/mL) 在37°C下处理L1210/0 细胞2小时。为了测量生长抑制情况,进行细胞离心,洗涤一次,再按30 × 103 - 50 × 103 个细胞/mL的密度悬浮于新鲜培养基中,再温育3天。使用库氏计数仪测定细胞数。使用同等体积的0.4% 台酚蓝对细胞进行等分稀释。生存力表示为不含台酚蓝的细胞百分数。上述与Cisplatin温育的细胞 也稀释成0.1%琼脂,生长2周,计算菌落数。




(Only for Reference)
溶解度 (25°C)
体外
DMF
12 mg/mL (39.99 mM)
Ethanol
0.01 mg/mL (0.03 mM)
Water
Insoluble
* 溶解度检测是由Selleck技术部门检测的,可能会和文献中提供的溶解度有所差异,这是由于生产工艺和批次不同产生的正常现象。请按照顺序依次加入各个纯溶剂。
化学数据
分子量
300.05
化学式

Cl2H6N2Pt

CAS号
15663-27-1
稳定性
powder
in solvent
别名
N/A
计算器
摩尔浓度计算器
摩尔浓度计算器
本计算器可帮助您计算出特定溶液中溶质的质量、溶液浓度和体积之间的关系,公式为:
质量 (g) = 浓度 (mol/L) x 体积 (L) x 分子量 (g/mol)
摩尔浓度计算公式
*在配置溶液时,请务必参考Selleck产品标签上、MSDS / COA(可在Selleck的产品页面获得)批次特异的分子量使用本工具。
稀释计算器
稀释计算器
用本工具协助配置特定浓度的溶液,使用的计算公式为:
开始浓度 x 开始体积 = 最终浓度 x 最终体积
稀释公式
稀释公式一般简略地表示为: C1V1 = C2V2 ( 输入 输出 )
在配置溶液时,请务必参考Selleck产品标签上、MSDS / COA(可在Selleck的产品页面获得)批次特异的分子量使用本工具。.
分子量计算器
分子量计算器
通过输入化合物的化学式来计算其分子量:
注:化学分子式大小写敏感。C10H16N2O2 c10h16n2o2
摩尔浓度计算器
临床试验信息
| NCT Number | Recruitment | Conditions | Sponsor/Collaborators | Start Date | Phases |
| --- | --- | --- | --- | --- | --- |
| NCT01277744 | Active, not recruiting | Advanced Cancers|Sarcoma | M.D. Anderson Cancer Center | May 9, 2011 | Phase 2 |
| NCT01285037 | Recruiting | Cancer | Eli Lilly and Company | September 9, 2009 | Phase 1 |
| NCT01828736 | Completed | Recurrent Bladder Cancer|Stage IV Bladder Cancer|Transitional Cell Carcinoma of the Bladder | Association Pour La Recherche des Thérapeutiques Innovantes en Cancérologie|Roche Pharma AG | February 9, 2004 | Phase 2 |
| NCT00193882 | Completed | Esophagus Cancer | Trans-Tasman Radiation Oncology Group (TROG)|National Health and Medical Research Council, Australia|Canadian Cancer Trials Group | July 7, 2003 | Phase 3 |
| NCT01445405 | Completed | Carcinoma, Squamous|Head and Neck Cancer|Oral Cancer|Laryngeal Cancer|Pharyngeal Cancer | National Cancer Institute (NCI)|National Institutes of Health Clinical Center (CC) | February 5, 2008 | Phase 1 |
| NCT03047265 | Active, not recruiting | Nasopharyngeal Carcinoma | Sun Yat-sen University | February 4, 2017 | Phase 2 |
技术支持
在订购、运输、储存和使用我们的产品的任何阶段,您遇到的任何问题,均可以通过拨打我们的热线电话400-668-6834,或者技术支持邮箱tech@selleck.cn,直接联系到我们。我们会在24小时内尽快联系您。
如果有其他问题,请给我们留言。
常见问题及建议解决方法
问题 1:

What is the appropriate concentration of DMF for cell culture and animal study?

回答:

It depends on the cell type. The final concentration of DMF should be better limited to less than 0.1% if possible, or below 1%. Using saline as a vehicle for cisplatin at up to 3mg/ml is recommended. it's a suspension and can be administrated via oral gavage.

问题 2:

Your datasheet said that using DMF and DMSO as solvents to prepair stock solutions of cisplatin(Cat.No.S1166) is recommended. But using DMSO as the solvent would inactivate platinium complex as the paper reported?

回答:

DMSO will inactivate platin-containing compounds. DMF is a much better choice than DMSO so you can dissolve cisplatin in DMF at up to 12mg/ml. It can also be dissolve in water at 0.01mg/ml.
相关DNA/RNA Synthesis产品