Adavosertib (MK-1775)
目录号:S1525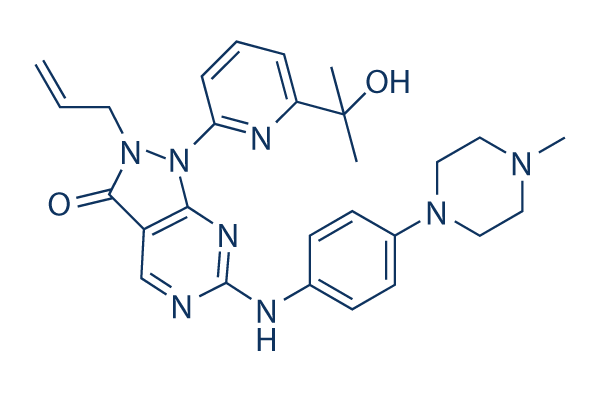 Molecular Weight(MW): 500.6
MK-1775是一种有效的,高选择性Wee1抑制剂,无细胞试验中IC50为5.2 nM;阻碍G2期DNA损伤检验点。Phase 2。
生物活性
产品描述
MK-1775是一种有效的,高选择性Wee1抑制剂,无细胞试验中IC50为5.2 nM;阻碍G2期DNA损伤检验点。Phase 2。
特性
首个报道的 Wee1抑制剂。
靶点

Wee1 [1]
(Cell-free assay)
5.2 nM

体外研究

MK-1775以ATP竞争的方式抑制Wee1激酶。与作用于Wee1相比,MK-1775对Yes的效能低2-到3-倍,IC50为14 nM,对7种其他激酶的效能低10倍,1 μM浓度下抑制率>80%,比对人Myt 1选择性高100倍以上,并抑制周期蛋白依赖性激酶1 (CDC2) 在可选择位点(Thr14) 的磷酸化作用。通过阻断负荷突变型p53的WiDr细胞中Wee1活性,废止DNA损伤检控点,MK-1775治疗抑制Tyr15 (CDC2Y15)位点的CDC2基础磷酸化作用,EC50为49 nM,并剂量依赖性抑制gemcitabine-,carboplatin- 或cisplatin-诱导的CDC2磷酸化和细胞周期阻滞,EC50分别为82 nM和81 nM,180 nM 和163 nM,以及159 nM 和 160 nM。30-100 nM 的MK-1775单独治疗在WiDr 和 H1299细胞中没有显著的抗增殖作用,而300 nM的MK-1775足以抑制>80%的Wee1,表现出温和但显著的抗增殖作用,在WiDr和H1299细胞中抑制率分别为34.1%和28.4%。[1]

Cell Data

| Cell Lines | Assay Type | Concentration | Incubation Time | Formulation | Activity Description | PMID |
| --- | --- | --- | --- | --- | --- | --- |
| ASPC-1 | MVvHdo94fGhiSX7obYJqfGmxbjDBd5NigQ>? | | | | MXTJR|UxRTF|LkKgxtEhOS5zIN88US=> | MX[yOVQ2QDl3NB?= |
| BxPC-3 | MlTwS5Jwf3SqIFnubIljcXSrb36gRZN{[Xl? | | | | Mk\0TWM2OD1yLkigxtEhOC5yMzFOwG0> | NV\Bdo83OjV2NUi5OVQ> |
| CFPAC-1 | M{O0OGdzd3e2aDDJcohq[mm2aX;uJGF{e2G7 | | | | MlXvTWM2OD1|LkOgxtEhOC5{IN88US=> | NFXLeW0zPTR3OEm1OC=> |
| HPAC | NWH3cmtXT3Kxd4ToJGlvcGmkaYTpc44hSXO|YYm= | | | | NWjscHREUUN3ME2wMlUhyrFiMD6wNUDPxE1? | NY\3bpBDOjV2NUi5OVQ> |
| MIAPaCa-2 | M1nUU2dzd3e2aDDJcohq[mm2aX;uJGF{e2G7 | | | | NX\R[FVDUUN3ME2wMlUhyrFiMD6wOUDPxE1? | MVyyOVQ2QDl3NB?= |
| PANC-1 | MY\Hdo94fGhiSX7obYJqfGmxbjDBd5NigQ>? | | | | M1TsXmlEPTB;MUCuOkDDuSBzLkGg{txO | MWiyOVQ2QDl3NB?= |
| SK-N-BE (2) | MU\Hdo94fGhiSX7obYJqfGmxbjDBd5NigQ>? | | | | M4jIOmlEPTB;Mj605qCKyrIkgJmwMlMh|ryP | Mlv6NlU{ODh7MU[= |
| SK-N-BE (2), PAN→MK | Mn3nS5Jwf3SqIFnubIljcXSrb36gRZN{[Xl? | | | | MoLLTWM2OD1{Nj625qCKyrIkgJm5MlYh|ryP | MYiyOVMxQDlzNh?= |
| SK-N-BE (2), MK→PAN | NEXlZ|BIem:5dHigTY5pcWKrdHnvckBCe3OjeR?= | | | | NEHI[ZpKSzVyPUKuOQKBkcLz4pEJNE4{KM7:TR?= | MYKyOVMxQDlzNh?= |
| SK-N-AS | MVjHdo94fGhiSX7obYJqfGmxbjDBd5NigQ>? | | | | NGX2eFVKSzVyPUCuOVDjiIoEsfMAjVAvODJizszN | MlzZNlU{ODh7MU[= |
| SK-N-DZ | MV\Hdo94fGhiSX7obYJqfGmxbjDBd5NigQ>? | | | | M13ENmlEPTB;MD6zOwKBkcLz4pEJNE4xOSEQvF2= | NYDDNoVOOjV|MEi5NVY> |
| SK-N-AS | M1HQSmFxd3C2b4Ppd{BCe3OjeR?= | MWS1NFAhdk1? | M2fzSFQ5KGh? | | MmHhbY5lfWOnczDj[YxtKGGyb4D0c5Nqew>? | NWn2U2dSOjV|MEi5NVY> |
| SK-N-DZ | NXm5bXNwSXCxcITvd4l{KEG|c3H5 | NHzp[Y42ODBibl2= | MVO0PEBp | | MVrpcoR2[2W|IHPlcIwh[XCxcITvd4l{ | NGjwXpUzPTNyOEmxOi=> |
| THP-1 | NGDkcIVIem:5dHigTY5pcWKrdHnvckBCe3OjeR?= | M3LPS|EzPS9{NUCvOVAxKG6P | MVK0PEBp | | MWHpcoNz\WG|ZYOgZ4VtdCCmZXH0bEBqdiCjIHPvcoNmdnS{YYTpc44u\GWyZX7k[Y51KG2jbn7ldi=> | NUfpSWx3OjVyOES2NVQ> |
| MV4-11 | MWjHdo94fGhiSX7obYJqfGmxbjDBd5NigQ>? | MUWxNlUwOjVyL{WwNEBvVQ>? | MYW0PEBp | | NFLLNnZqdmO{ZXHz[ZMh[2WubDDk[YF1cCCrbjDhJINwdmOnboTyZZRqd25vZHXw[Y5l\W62IH3hco5meg>? | Mn3XNlUxQDR4MUS= |
| U937 | MUnHdo94fGhiSX7obYJqfGmxbjDBd5NigQ>? | MlPNNVI2NzJ3MD:1NFAhdk1? | MXy0PEBp | | M3TUdIlv[3KnYYPld{Bk\WyuIHTlZZRpKGmwIHGgZ49v[2WwdILheIlwdi2mZYDlcoRmdnRibXHucoVz | MlflNlUxQDR4MUS= |
| HL-60 | NXvzU|UyT3Kxd4ToJGlvcGmkaYTpc44hSXO|YYm= | Mn7mNVI2NzJ3MD:1NFAhdk1? | NF\vWYk1QCCq | | M2fLd4lv[3KnYYPld{Bk\WyuIHTlZZRpKGmwIHGgZ49v[2WwdILheIlwdi2mZYDlcoRmdnRibXHucoVz | Ml3VNlUxQDR4MUS= |
| OCI-AML3 | NInyflhIem:5dHigTY5pcWKrdHnvckBCe3OjeR?= | NFq3XJMyOjVxMkWwM|UxOCCwTR?= | NIrkcFQ1QCCq | | MUDpcoNz\WG|ZYOgZ4VtdCCmZXH0bEBqdiCjIHPvcoNmdnS{YYTpc44u\GWyZX7k[Y51KG2jbn7ldi=> | M{jFO|I2ODh2NkG0 |
| MOLM-13 | MojyS5Jwf3SqIFnubIljcXSrb36gRZN{[Xl? | MW[xNlUwOjVyL{WwNEBvVQ>? | M4jhNFQ5KGh? | | NFH5fIhqdmO{ZXHz[ZMh[2WubDDk[YF1cCCrbjDhJINwdmOnboTyZZRqd25vZHXw[Y5l\W62IH3hco5meg>? | NVSzdHg2OjVyOES2NVQ> |
| CMK | MmTkR4VtdCCYaXHibYxqfHliQYPzZZk> | MmHKNVAuOTByMECgcm0> | MVm3NkBp | | MYjy[YR2[2W|IHPlcIwhfmmjbHnibZR6KGmwIHGgZ49v[2WwdILheIlwdi2mZYDlcoRmdnRibXHucoVz | Mmn6NlQ6PjJ|M{G= |
| CMY | M{K0b2NmdGxiVnnhZoltcXS7IFHzd4F6 | MY[xNE0yODByMDDuUS=> | NYXvcZAxPzJiaB?= | | Ml\4doVlfWOnczDj[YxtKH[rYXzpZol1gSCrbjDhJINwdmOnboTyZZRqd25vZHXw[Y5l\W62IH3hco5meg>? | Ml[1NlQ6PjJ|M{G= |
| Dayo | MWnHdo94fGhiSX7obYJqfGmxbjDBd5NigQ>? | | | | NWT1U4VwUUN3ME2xOVAhdk1? | MWiyOFY3OTlzMB?= |
| UW228 | MV;Hdo94fGhiSX7obYJqfGmxbjDBd5NigQ>? | | | | MUjJR|UxRTJ|MjDuUS=> | M4nx[FI1PjZzOUGw |
| IST-MES1 | M3LSVGNmdGxiVnnhZoltcXS7IFHzd4F6 | NWL1UXZ3OTVyL{K1NEBvVQ>? | MX[3NkBp | | MXvlcohidmOnczD0bIUh[2m|cHzheIlvKGO7dH;0c5hq[yCnZn\lZ5QhcW5iYTDjc45k\W62cnH0bY9vNWSncHXu[IVvfCCvYX7u[ZI> | MUOyOFM3PTd6Mh?= |
| IST-MES2 | MX\D[YxtKF[rYXLpcIl1gSCDc4PhfS=> | MXWxOVAwOjVyIH7N | MVO3NkBp | | NHfNW5ZmdmijbnPld{B1cGViY3nzdIxifGmwIHP5eI91d3irYzDl[oZm[3RiaX6gZUBkd26lZX70doF1cW:wLXTldIVv\GWwdDDtZY5v\XJ? | NH3OVGIzPDN4NUe4Ni=> |
| REN | MknjR4VtdCCYaXHibYxqfHliQYPzZZk> | MX[xOVAwOjVyIH7N | NUPPS3h7PzJiaB?= | | Mnza[Y5p[W6lZYOgeIhmKGOrc4DsZZRqdiCleYTveI95cWNiZX\m[YN1KGmwIHGgZ49v[2WwdILheIlwdi2mZYDlcoRmdnRibXHucoVz | M37qTlI1OzZ3N{iy |
| NCI-H2452 | NIHs[2pE\WyuIG\pZYJqdGm2eTDBd5NigQ>? | NW\mcIhvOTVyL{K1NEBvVQ>? | MnvnO|IhcA>? | | NYLtV3NC\W6qYX7j[ZMhfGinIHPpd5Bt[XSrbjDjfZRwfG:6aXOg[YZn\WO2IHnuJIEh[2:wY3XueJJifGmxbj3k[ZBmdmSnboSgcYFvdmW{ | NVzYWJBTOjR|NkW3PFI> |
| MSTO-211H | NVLXcoNZS2WubDDWbYFjcWyrdImgRZN{[Xl? | M3;DXVE2OC9{NUCgcm0> | NG\lS4o4OiCq | | MkPM[Y5p[W6lZYOgeIhmKGOrc4DsZZRqdiCleYTveI95cWNiZX\m[YN1KGmwIHGgZ49v[2WwdILheIlwdi2mZYDlcoRmdnRibXHucoVz | M3[yc|I1OzZ3N{iy |
| NCI-H2052 | M2\WT2NmdGxiVnnhZoltcXS7IFHzd4F6 | MmPINVUxNzJ3MDDuUS=> | MYO3NkBp | | M1\ObIVvcGGwY3XzJJRp\SClaYPwcIF1cW5iY4n0c5RwgGmlIHXm[oVkfCCrbjDhJINwdmOnboTyZZRqd25vZHXw[Y5l\W62IH3hco5meg>? | NIixclQzPDN4NUe4Ni=> |
| WEE1 | MlXQS5Jwf3SqIFnubIljcXSrb36gRZN{[Xl? | | | | MYTJR|UxRTVwMjDuUS=> | NVzOc4F4OjN4OUm2OVU> |
| CDC2 | M37TPGdzd3e2aDDJcohq[mm2aX;uJGF{e2G7 | | | | M1XWN2lEPTExvK6xNFAxKG6P | MlHkNlM3QTl4NUW= |
| CDK7 | MofHS5Jwf3SqIFnubIljcXSrb36gRZN{[Xl? | | | | NGnHUGxKSzVy78{eNVAxOCCwTR?= | NHPUVlAzOzZ7OU[1OS=> |
| MYT1 | NXTFZoV2T3Kxd4ToJGlvcGmkaYTpc44hSXO|YYm= | | | | MWHJR|UxRTV|MDDuUS=> | MUeyN|Y6QTZ3NR?= |
| T98G | NGT5fY9CeG:ydH;zbZMhSXO|YYm= | MUKxNFAwOjVyIH7N | M2jmS|YhcA>? | | NEX1SlhmdmijbnPld{Bz[WSrYYTpc44ucW6mdXPl[EBk\WyuIHvpcIxqdmd? | M{XoeFIyQTl{N{mz |
| A549 | M4qzV2Fxd3C2b4Ppd{BCe3OjeR?= | MUeyNFAhdk1? | MnvENUBp | | NUTXbppsemGmaX;z[Y5{cXSrenXzJG5US0yFIHPlcIx{KGmwIHGgdFU{NWSncHXu[IVvfCCvYX7u[ZI> | NEPkRmUzOTd7OUCzNy=> |
| H460 | NFHqU2NCeG:ydH;zbZMhSXO|YYm= | MXuyNFAhdk1? | NU\vd4dpOSCq | | Moe2doFlcW:|ZX7zbZRqgmW|IF7TR2xEKGOnbHzzJIlvKGFicEWzMYRmeGWwZHXueEBu[W6wZYK= | MU[yNVc6QTB|Mx?= |
| H1299 | NG[2OXpCeG:ydH;zbZMhSXO|YYm= | MVKyNFAhdk1? | NVTQZ4xOOSCq | | MnTadoFlcW:|ZX7zbZRqgmW|IF7TR2xEKGOnbHzzJIlvKGFicEWzMYRmeGWwZHXueEBu[W6wZYK= | M2X4OlIyPzl7MEOz |
| Calu-6 | MXnBdI9xfG:|aYOgRZN{[Xl? | MUeyNFAhdk1? | NGDxfpUyKGh? | | NIfvXFFz[WSrb4PlcpNqfGm8ZYOgUnNEVENiY3XscJMhcW5iYTDwOVMu\GWyZX7k[Y51KG2jbn7ldi=> | NFniS5UzOTd7OUCzNy=> |
| WiDr | MmrlT4lv[XOnIFHzd4F6ew>? | NF35e4wyOC1zMECwNEBvVQ>? | MlHxPEBp | | NYTMZWxLcW6qaXLpeJMheGixc4Doc5J6dGG2aX;uJI9nKEOGQ{KgZZQhXHm{MUWge4l1cCCjbjDFR|UxyqC4YXz1[UBw\iB6NTDucY9tN0xicILleJJm[XSnZDD3bZRpKGenbXPpeIFjcW6n | NXnHWFlROTl6OEe1OFU> |

Assay

Methods
Test Index
PMID
Western blot
25609063 25458954 27616351
Immunofluorescence

tubulin / p-HH3(S10);


FaDu and UNC7 cells were treated with adavosertib (500 nM), alisertib (250 nM), or adavosertib + alisertib for 24 hours and followed by immunofluorescent staining with anti-tubulin (Green) and anti-pHH3 (S10; Red). Nucleus was stained with DAPI. (A) Representative images of mitotic cells were captured by confocal microscopy. Scale bar: 10 µm.

γH2AX;


A) γH2AX foci formation in GBM6 and GBM22 were assessed 24 h after a single treatment of 300 nM MK-1775.

Cleaved caspase-3 / pH3;


MIA PaCa2 cells were treated and dual stained with pH3 to observe mitotic entry; and cleaved caspase 3 (CL-CSP3) to observe caspase 3 activity.

30755439 25609063 27616351
Growth inhibition assay

Cell viability;


Pancreatic cancer cell lines were cultured in 96-well plates at 37℃ for 48 h in complete medium with variable concentrations of MK-1775 and viable cell numbers were determined using MTT reagent and a microplate reader. The data are presented as means ± standard errors from at least 3 independent experiments.

IC50;


AML cell lines were cultured for 72 h in complete medium with variable concentrations of MK-1775 (MK) and viable cell numbers were determined using MTT assays. IC50 values were calculated as drug concentration necessary to inhibit 50% growth compared to untreated control cells.

25458954 25084614

体内研究
MK-1775(~20 mg/kg)单独治疗对WiDr异种移植物表现出最小的抗肿瘤作用,在大鼠体内第3天时T/C为69%。在裸鼠HeLa-luc和TOV21G-shp53异种移植模型中,MK-1775单独的抗肿瘤效能是温和的。[1]
推荐的实验操作(此推荐来自于公开的文献所以Selleck并不保证其有效性)
激酶实验:

- 合并

体外激酶试验:

使用重组人Wee1。激酶反应使用10 μM ATP,1.0 μCi of [γ-

33

P]ATP,和2.5 μg poly(Lys, Tyr)作为底物,在逐渐增加浓度的MK-1775存在下,在30°C环境中进行30分钟。整合到底物的放射性被捕获到MultiScreen-PH平板,在液体闪烁计数器上计数。

细胞实验:

- 合并

Cell lines: WiDr,NCI-H1299,TOV21G,和 HeLa细胞
Concentrations: 在DMSO中溶解,终浓度为~10 μM
Incubation Time: 24小时
Method: 细胞在gemcitabine存在或不存在下处理24小时,然后用MK-1775再处理24小时。细胞活性使用SpectraMax通过WST-8试剂盒测定。细胞内caspase-3/7活性使用Caspase-3/7 Glo试剂盒测定。


(Only for Reference)

动物实验:

- 合并

Animal Models: 负荷WiDr,HeLa-luc,或TOV21G-shp53肿瘤的免疫缺陷裸鼠(F344/NJcl-rnu)
Formulation: 在0.5%甲基纤维素溶液载体中制备
Dosages: ~20 mg/kg/day
Administration: 口服


(Only for Reference)
溶解度 (25°C)
体外
DMSO
80 mg/mL (159.8 mM)
Ethanol
10 mg/mL (19.97 mM)
Water
0.0001 mg/mL (0.0 mM)
体内
从左到右依次将纯溶剂加入产品,现配现用(数据来自Selleck实验检测而非文献):
2% DMSO+30% PEG 300+5% Tween 80+ddH2O

5mg/mL
* 溶解度检测是由Selleck技术部门检测的,可能会和文献中提供的溶解度有所差异,这是由于生产工艺和批次不同产生的正常现象。请按照顺序依次加入各个纯溶剂。
化学数据
分子量
500.6
化学式

C27H32N8O2

CAS号
955365-80-7
储存条件
粉状
溶于溶剂
别名
N/A
计算器
摩尔浓度计算器
摩尔浓度计算器
本计算器可帮助您计算出特定溶液中溶质的质量、溶液浓度和体积之间的关系,公式为:
质量 (mg) = 浓度 (mM) x 体积 (mL) x 分子量 (g/mol)
摩尔浓度计算公式
*在配置溶液时,请务必参考Selleck产品标签上、MSDS / COA(可在Selleck的产品页面获得)批次特异的分子量使用本工具。
稀释计算器
稀释计算器
用本工具协助配置特定浓度的溶液,使用的计算公式为:
开始浓度 x 开始体积 = 最终浓度 x 最终体积
稀释公式
稀释公式一般简略地表示为: C1V1 = C2V2 ( 输入 输出 )
在配置溶液时,请务必参考Selleck产品标签上、MSDS / COA(可在Selleck的产品页面获得)批次特异的分子量使用本工具。.
分子量计算器
分子量计算器
通过输入化合物的化学式来计算其分子量:
注:化学分子式大小写敏感。C10H16N2O2 c10h16n2o2
摩尔浓度计算器
技术支持
在订购、运输、储存和使用我们的产品的任何阶段,您遇到的任何问题,均可以通过拨打我们的热线电话400-668-6834,或者技术支持邮箱tech@selleck.cn,直接联系到我们。我们会在24小时内尽快联系您。
如果有其他问题,请给我们留言。
常见问题及建议解决方法
问题 1:

How to prepare MK1775 methylcellulose solution? and how to prepare methylcellulose itself? Once make the MK1775 methylcellulose solution, how should i keep it?

回答:

MK1775 in 0.5% methylcellulose is a suspension or emulsion, and it is ok to treat mice orally. It is recommended to dissolve methylcellulose in saline. It will take some time to dissolve methylcellulose, and you can vortex it for a while. The MK1775 methylcellulose solution can be stored at 4°C for a week.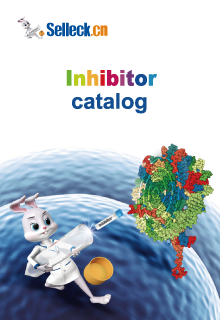 相关Wee1产品