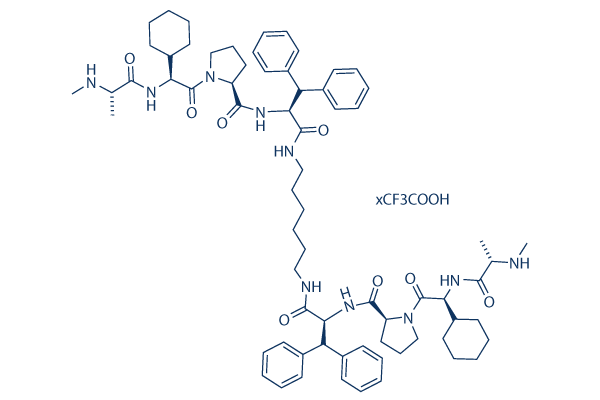 Molecular Weight(MW): 1205.57
BV-6是一种SMAC模拟的cIAP和XIAP的双重抑制剂。
客户使用该产品的2个实验数据:
IEC-1 cells were transfected with Per1/2 specific siRNAs or a control siRNA. Afterward, the cells were stimulated with TNFa (0.1 ng/ml under basal conditions) in the presence or absence of BV-6 or were left untreated. Activation of caspase-8 (I) and caspases 3/7 (J ) was assayed. Data are presented as the means±SEM of at least 3 independent experiments. *P≤0.05, **P≤0.01.

FASEB J, 2017, 31(11):4707-4719. BV-6 purchased from Selleck.
生物活性
产品描述
BV-6是一种SMAC模拟的cIAP和XIAP的双重抑制剂。
靶点
体外研究

BV6抑制HCC193 NSCLC细胞的细胞活性,IC50 为 7.2 μM,在HCC193 和H460细胞系引起细胞凋亡,并通过分别激活裂解的caspase-8 和caspase-9显著增加这些细胞系的放射敏感性。[1]在不成熟的树突细胞中,BV-6治疗导致经典的NF-kB通路适度激活。[2]此外,BV-6增加CIK细胞介导的血液病(H9,THP-1,和Tanoue)和固体肿瘤(RH1,RH30,和TE671)的消退。BV-6也会增强外周血单核细胞的凋亡,并且对免疫细胞限制其细胞毒性潜能具有显著的抑制作用。[3]

Assay

Methods
Test Index
PMID
Western blot

cIAP1 / XIAP ;


Cells were treated with DMSO (control) or BV6 (1μM for HCC193 and 5μM for H460) and harvested at indicated time points. BV6 reduced cIAP1 within one hour and gradually decreased XIAP with increased incubation time for both cell lines.

RIP1 / FADD / Caspase-8;


A172 cells were treated for indicated times with 5 μM BV6 in the presence of 20 μM zVAD.fmk. Caspase-8 was immunoprecipitated using an anti-caspase-8 antibody and detection of indicated proteins was done by western blotting.

p52 / RelB / p50 / p-p65 / Lamin B1;


A172 and MDA-MB-231 cells were treated for indicated times with 5 μM BV6 (A172) or 50 nM BV6 (MDA-MB-231). Expression levels of p50, p52, p65 and RelB were analyzed in the nucleus or in the cytosol by western blotting. α-tubulin served as purity control for cytoplasmic fractions, lamin B1 for nuclear fractions and β-actin as loading control for both fractions.

21760551 24287697
Growth inhibition assay

Cell death ;


Intrinsic activity of BV6 on BCP-ALL cell lines. (a) Heterogeneous sensitivity of BCP-ALL cell lines for cell death after exposure to BV6 (48 h). UoCB6 and REH display half-maximal inhibitory concentration (IC50) values at nanomolar concentrations in contrast to Nalm-6 and RS4;11 showing sensitivity in the micromolar range. (b–e) Inhibition of BV6-induced cell death (48-h exposure to BV6 at indicated concentrations) by 20 μM zVAD.fmk (zVAD), 30 μM Necrostatin-1 (Nec-1), or 40 μg/ml etanercept (Et). Percentages of dead cells were estimated by flow cytometry according to forward and side scatter criteria, three independent experiments each performed in triplicate, estimation of IC50 (a), comparison of BV6 to BV6 and the respective inhibitors; mean and S.D. are indicated; significance by Mann-Whitney U-test; *P<0.01 and #P<0.05 (b-e)

26775704
推荐的实验操作(此推荐来自于公开的文献所以Selleck并不保证其有效性)
细胞实验:[1]

- 合并

Cell lines: HCC193 和 H460 细胞
Concentrations: ~30 μM
Incubation Time: ~48 小时
Method: 细胞活性使用CellTiter 96®含水非放射性细胞增殖试剂盒进行测定。5000细胞/孔以一式三份接种于96孔板。细胞附着在孔壁之后,将逐渐增加浓度的BV6加入不同的孔中。对照组暴露于相同浓度的DMSO。24小时后,3μg/mL的MTS和25 μM PMS加入到每孔中。37 °C下在潮湿的5% CO2中培养2小时后,板在490-nm吸光度下于酶标仪上读取数据。单个样品的相对细胞活性通过将它们的吸光度与相应的对照组归一化进行计算。IC50值使用Prism 5.01计算。对于TNFα中和抗体试验,10 μg/mL infliximab存在或不存在下,细胞暴露于1和5 μM BV6,测定在24小时后进行。板在490-nm吸光度下于酶标仪上读取数据。


(Only for Reference)
溶解度 (25°C)
体外
DMSO
100 mg/mL (82.94 mM)
Ethanol
100 mg/mL warmed (82.94 mM)
Water
25 mg/mL (20.73 mM)
* 溶解度检测是由Selleck技术部门检测的,可能会和文献中提供的溶解度有所差异,这是由于生产工艺和批次不同产生的正常现象。请按照顺序依次加入各个纯溶剂。
化学数据
分子量
1205.57
化学式

C70H96N10O8.xCF3COOH

CAS号
1001600-56-1(free base)
储存条件
粉状
溶于溶剂
别名
N/A
计算器
摩尔浓度计算器
摩尔浓度计算器
本计算器可帮助您计算出特定溶液中溶质的质量、溶液浓度和体积之间的关系,公式为:
质量 (mg) = 浓度 (mM) x 体积 (mL) x 分子量 (g/mol)
摩尔浓度计算公式
*在配置溶液时,请务必参考Selleck产品标签上、MSDS / COA(可在Selleck的产品页面获得)批次特异的分子量使用本工具。
稀释计算器
稀释计算器
用本工具协助配置特定浓度的溶液,使用的计算公式为:
开始浓度 x 开始体积 = 最终浓度 x 最终体积
稀释公式
稀释公式一般简略地表示为: C1V1 = C2V2 ( 输入 输出 )
在配置溶液时,请务必参考Selleck产品标签上、MSDS / COA(可在Selleck的产品页面获得)批次特异的分子量使用本工具。.
分子量计算器
分子量计算器
通过输入化合物的化学式来计算其分子量:
注:化学分子式大小写敏感。C10H16N2O2 c10h16n2o2
摩尔浓度计算器
技术支持
在订购、运输、储存和使用我们的产品的任何阶段,您遇到的任何问题,均可以通过拨打我们的热线电话400-668-6834,或者技术支持邮箱tech@selleck.cn,直接联系到我们。我们会在24小时内尽快联系您。
如果有其他问题,请给我们留言。